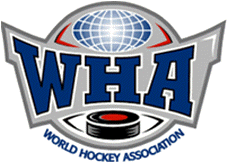 Okay, I don't really feel like I need to say a lot about this issue, but it's been known for quite some time that people and investors wanted to revive the WHA of the old days. Much like the NBA had it's rival ABA and the NFL had it's USFL, hockey fans will soon be given an alternative to the NHL. TSN's
NHL Network
has an article about it. I'll outline some more of the finer or more interesting points here.


WHA commissioner is NHL legend Bobby Hull


Entry Draft will be open to players 17 years of age


Halifax, Quebec City, Detroit, Dallas, Orlando and Jacksonville are the original 6 teams. Toronto and Hamilton to soon join


$15 million dollar salary cap


Rule Changes: no red-line, no-touch icing, touch-up offside and three-on-three overtime followed by a shootout.


Halifax (Metro Centre), Quebec City (Le Colisee Pepsi), Detroit (Pontiac Silverdome), Dallas (Reunion Arena), Orlando (TD Waterhouse Center) Jacksonville, Fla. (Memorial Arena), Toronto (SkyDome) and Hamilton (Copps Coliseum) are all old hockey arenas expected to hold the WHA games.
The NHL had better get to signing that CBA soon or the WHA will have a leg on them and steal away all their good players. They have their eyes on phenom Sidney Crosby and hope to "steal" him away before he turns 18 from the NHL. Is that Salary Cap in Canadian, American or Australian Dollars?