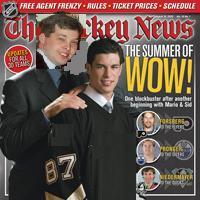 After the experience of running my own Fantasy Hockey Leagues on Yahoo! Sports, I was tired of picking my favorite players and getting stuck with them when they played poorly. But this year, I decided to really abandon my old strategies of making sure my favorite underdog players get drafted and load up on the players that amass the goals and assists.
I got an invitation from a Mr. PJ Swenson of
Sharkspage.com
for a league of bloggers and hockey journalists to "put up or shut up". I used my knowledge of how the automatic draft order works and made sure to put the most desired players on top of my priorities list. Of course, I did fill out a "do not draft" list of players. It might be a fantasy game, but hey, I still draft for character!
You may recognize some of my opponents in this Blogger Challenge. Many of them I have linked below this page - even considering some of them to be my good friends. Vodkafish, Golbez, all things Canadian, and veryobsessed to name a few. Of course, there will be a couple of bloggers who I will most certainly enjoy defeating!
I'm loaded for bear this year! On the
Hockey Fanatics
team it's Gaborik, Crosby, Zherdev, Golmez, Murray. A solid solid team I must say! No word as to the rumors that the Fanatics would sign K. Wendell and C. Granato to improve the team's makeup. Of course, the people in Pittsburgh get lucky again by being awarded Sidney Crosby as illustrated by the magazine cover above.
When the computer selected draft was completed, I wondered how long it was going to take for me to get the first trade offer for him. Already, not 24 hours from the draft, I was already offered a blockbuster 4 player deal. I seriously considered it for like...... 2 seconds.
It's definitely going to be a fun year. I'll keep you all up to date on how I fare against my "peers" of the hockey journalist world. I don't necessarily have to win this league, but I want to finish above some other rival blogs in the race.
Good luck to all of you participants!