As it was announced today during most of the hockey world's game broadcasts, the Boston Bruins have traded their franchise star captain Joe Thornton out west - far west!
Most likely a salary dump, the Bruins collected two above average players and one sturdy dependable winger in exchange from the San Jose Sharks. The Sportsnet blurb initially sites the Bruins trying to shake up their franchise, but no mention of the hefty price tag that Thornton is known to cary.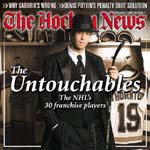 It looks as if
The Hockey News
got it wrong back in 2003 when it dubbed #19 Boston Joe for an "untouchable franchise player" on their cover. Nobody is safe in this current CBA!
Sharks get: Joe Thornton
Bruins get: Brad Stuart, Marco Sturm and Wayne Primeau.
[Via:
Rogers Sportsnet
]