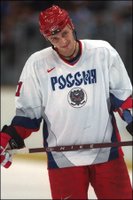 It took a while for my prediction to come true, but the day has come for Ohio hockey fans to celebrate a good day in their team's history. The Blue Jackets were just one superstar away from being a serious playoff contender. And now that dream has come true.
In a salary dump, the Mighty Ducks of Anaheim have traded their star center Sergei Fedorov to the Columbus Blue Jackets for Tyler Wright and Francois Beauchemin.
Fedorov, who is no spring chicken anymore, is scheduled to make $6.08 million this season. He's recently healed up after missing 13 games with a groin injury. (Did Tara Reid have anything to do with that?)
If you don't believe the excitement, just ask Blue Jacket's GM Doug MacLean
"The point of the deal is similar to our signing of Adam Foote," MacLean said. "We have a lot of young players, a lot of young kids with a lot of talent. We're adding a three-time Stanley Cup champion, a Hart winner, who still has a tremendous skill level and is excited to play. He'll be a terrific addition."
Columbus is known to be one of the lowest teams in the league in terms of scoring. Of course, Sergei and his 1 assist this season is expected to pick up the slack after the team has missed their bread winner Rick Nash has been out for quite some time. Nash will still be out for a while longer? So, GM MacLean, how fast can you get Fedorov in town?
MacLean said he had scouted Fedorov in two games over the weekend. Fedorov is flying to Columbus on Tuesday night and is expected to be in uniform when the Blue Jackets play St. Louis on Wednesday night at Nationwide Arena.
[Via:
Sportsnet.ca
&
Yahoo! Sports
]