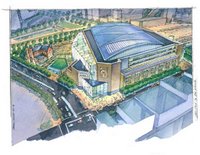 Since Mario's desperate comments about the 2007 deadline for the Penguins franchise, things have been moving at lightning speed to get the city a new arena facility.
The radio and TV talk shows have all been filled with Penguins representatives and Allegheny County representatives to discuss the proposed plan set forth by Isle of Capri and the Penguins to invest in a casino license.
As more and more information is given to the public through the press, the Penguins fans have especially been breathing easier where frustration and gloom were usually found. An artist's rendering of one plan to rebuild over the Civic/Mellon Arena site has been released and I have got to say that I am very impressed by these drawings. The outside looks to be shaped in the style of PNC Park.
I want this to happen now more than ever with the future of the Penguins franchise in the balance.