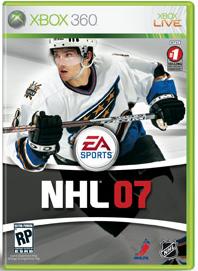 As the final items on the NHL's "things to do list" gets crossed off tonight, the NHL has announced that the next generation of hockey video games will feature the newest covers to hopefully market the league for years to come.
NHL 2K7 will be promoted by 2K Sports company with San Jose Sharks forward Joe Thorton. Thorton was traded last season to the Sharks and experienced a rejuvenation to his offensive potential and is a leading candidate for MVP.
However, Ovechkin is riding high with his successful rookie campaign. He will be the EA Sports NHL 07 spokesman for the game that I am most likely going to get when it arrives in stores in September. There is a quote from the young superstar regarding the honor:
"To me, I feel that I have you arrived in North America when you make the cover of a video game," said Ovechkin. "I have been playing EA SPORTS games for years and am honored to be a part of the NHL® 07 team."
Sounds to me that somebody didn't bother to clean that up a bit through Ovechkin's broken English. I just copy and pasted it from EA Sports website as is.
[Via:
GameStop
and
EA Sports
]