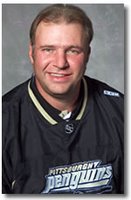 The ax has finally fallen on the Edzo regime as the Penguins have promoted the AHL Penguins coaching staff.
In a very un-Penguins like move, the organization has not only fired the head coach, but also excused the entire Penguins coaching staff including Randy Hillier and Joe Mullen (both former Penguin players). The Penguins have always replaced their coach with an assistant since "Badger" Bob Johnson died tragically.
This could be both a blessing and an awful failure in the eyes of many Penguins fans who now believe that this coaching change has come 30 games too late. Edzo's described style was "nice guy" and "laid back". This will be completely different from what the WBS Penguins have had.
Michel Therrien has worked real success in to the AHL franchise taking them to a Calder Cup finals and have obliterated the competition this year with a record 21-1-2 season. Therrien was a .500 coach in Montreal where losing was not an option.
"He's a no-nonsense guy and it's either his way or you don't play -- and from what I see, we definitely need that," [GM Craig] Patrick said.
Not only was Therrien promoted, but assistant Mike Yeo is also joining the NHL club. This leaves a coaching vacancy at the minors. This quote was taken from the NHL Penguins message boards.
Nassreddine and the rest of the veterans led practice this morning for the baby pens.. and Jeff Barrett said that Pittsburgh is in the process of sending someone from within the organization to get our guys through the 3 games this weekend until a permanent head coach can be found.. Barrett and Patrick were supposed to talk more after practice.
Many names have already surfaced on the boards such as Kevin Constantine and Ivan Hlinka's ghost.
There is also no word as to weather the infamous red shirt Coach Edzo wore will be hung on the Plexiglas a la Vlad Konstantinov's Red Wings jersey.
[Via:
Sportsnet.ca
&
Yahoo! Sports
]