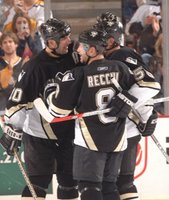 Defence wasn't exactly Recchi and LeClair's forte since coming over to the Penguins, but now they must fight for their reputations and professional hockey player honors as they have hired legal counsel to protect against allegations that they might be involved in the "Operation Slapshot". After the Penguins pathetic performance against the Boston Bruins, Recchi and LeClair gave a press conference to refute any involvement in the gambling matter and could possibly seek a lawsuit for reputation damages. It was presented on all major local news broadcasts such as WPXI-TV (NBC affiliate) and WTAE-TV (ABC affiliate).
Both Recchi and LeClair are well-known for their time in Philadelphia. Their connection also was a good friend and teammate to now disgraced Rick Tocchet. They both have hired a lawyer named Bob Del Greco and called for a press conference to deny any wrong doing in the gambling ring.
To me, this makes plenty of sense in the way it now makes it clear to me that their terrible play this year and questionable calls where they didn't finish their shots. It may explain why they haven't been playing up to their expected potential. Could this go as far to Sergei Gonchar to explain his lackluster season?
Story Developing....More to come....
[Via:
Pittsburgh Tribune Review
]